Peaked Mountain Mandalas
Ru Allen Clay & Camera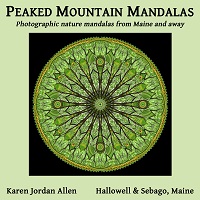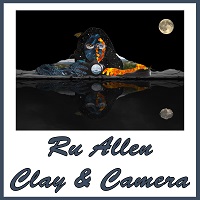 Welcome to Peaked Mountain Mandalas and Ru Allen Clay & Camera, formerly Allen & Allen Photo & Craft. As of January 1, 2020, the partners of Allen & Allen, Karen Allen and her daughter, Ru (Evelyn), dissolved that business and formed their own separate businesses.
Shopping with us during the pandemic
The pandemic has changed the way we do business for now. The fairs we had planned to attend in the spring and summer have been canceled. Hallowell Clayworks, where you could buy our work, is currently closed. Boothbay Harbor Artisans, where Karen's work has been available, is also closed at present, as is the

Maine Craft Association's Center for Maine Craft which carries Karen's mandala cards and drawstring bags.
NEW VENUE!

We are very pleased that Karen and Ru both have work for sale at a new business in Palermo, Maine. The Maine Variety, located conveniently on Route 3, carries local farm products and handcrafts as well as Maine brand items. It is open on Saturdays starting July 4.
You can also stay in touch with us online at our Etsy shops, Fine Art America, and Facebook. Karen offers an introduction to her artwork and several mandala videos set to music on her new Youtube channel. If you have any questions please contact Karen.
Please stay well and safe! We look forward to seeing you in person in the future.
© 2013-2020 Karen Jordan Allen